School Parliament Traffic Survey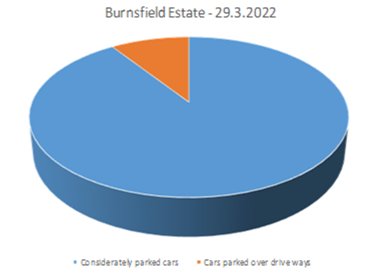 1 April 2022
School Parliament: Traffic Survey
On Tuesday 29th March, we carried out a traffic survey on the Burnsfield Estate.
We are happy to report that there were lots of considerate parking in the bays or where there clearly are not driveways. Lots of parents and children were walking, scooting and cycling to school which we were very pleased to see.
Unfortunately, we did see two cars park in front of the same driveway at different points to drop children off in older years. At both times there were free bays or spaces not in front of driveways. We would ask these drivers to consider our neighbours access to their driveways and park elsewhere.
We are planning on conducting another survey at the Larham Way entrance to school after the Easter holidays.
Daisy & Mrs. Culyer